Welcome to the Silvershine Jazz Club website. We hope you like it...
                                                                  ...at the Silvershine Jazz Club we aim to bring you some of the best Jazz from the West Midlands, the UK and overseas, whilst also using our Jazz nights to bring on new talent from in and around the area. In so doing we hope to maintain the ethos and the standards set by Andy Hamilton MBE, the man who first brought Jazz to Bearwood Corks Club.
   
DATE
WHAT'S ON
PRICE
13th March
Fred Webb

with

THE BLUE NOTES
£4(£3 concs)
20th March
STEVE KING BIG BAND
£6(£5 concs)
27th March
Celebration of the Music of
ANDY HAMILTON
Details to be announced
£TBA
3rd April
Steve Ajao Quintet
£5(£4 concs)
10th April
VIC EVANS 80th Birthday Party
Details to be announced
£TBA
17th April
Tom Ollendorff Trio
£5(£4 concs)
24th April
Tim Amann & Sons Easter Break
£4(£3 concs)
1st May
THE BLUE NOTES
£4(£3 concs)
8th May
LUCAS D & THE GROOVE GHETTO


feat.

LUKE SHINGLER (sax)
£5(£4 concs)
15th May
Alex Astbury Quintet
£5(£4 concs)
22nd May
Bryan Corbett Trio
£5(£4 concs)
29th May
THE BLUE NOTES Jam Night
£4(£3 concs)
5th June
Steve Sherriff & Ray Butcher + Band
£5(£4 concs)


FRED WEBB
with

The Blue Notes
- 13th March

Fred Webb is a regular vocalist with The Notebenders Big Band, who has performed at the Corks with his own band, as well as joining in with The Bliue Notes on Jam Nights. This time he joins with a full Blue Notes band as a headline act.
A popular local performer his musical career started in Rock 'n' Roll before making his move into Jazz and Big Band Swing. The Blue Notes line up will follow as saoon as I have it so watch this space.

---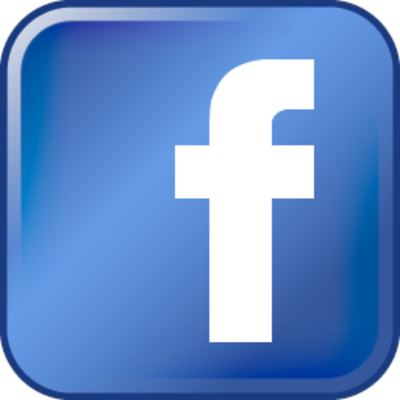 Follow us on Facebook, like us on Facebook, share our events and even become a friend of Bearwood Jazz!
Also like our "Silvershine Jazz Club" page. We do!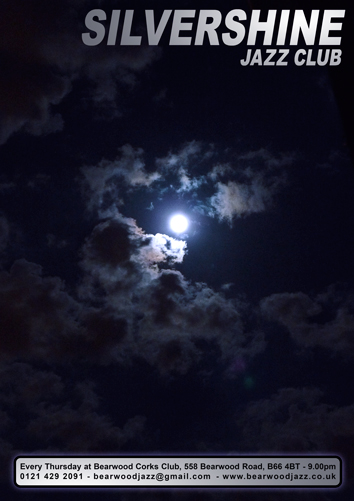 ...and download our stunning new poster. It's A3, but you can scale to fit for an A4 printer, and it will look fabulous anywhere. You can hang it on your wall or pin it up somewhere that it's likely to be seen and spread the word.
We have also created a downloadable version with a text box where you can write in details of specific events at the club (Perfect for performers promoting their own gigs).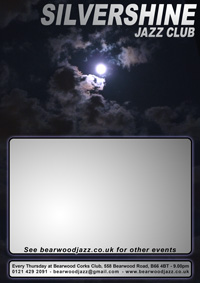 ...oh! and don't forget that you can get regular email alerts about what's on if you join our email list. To do so visit our Contact page and either fill in the form or email us.
---