Welcome to the Silvershine Jazz Club website. We hope you like it...
                                                                  ...at the Silvershine Jazz Club we aim to bring you some of the best Jazz from the West Midlands, the UK and overseas, whilst also using our Jazz nights to bring on new talent from in and around the area. In so doing we hope to maintain the ethos and the standards set by Andy Hamilton MBE, the man who first brought Jazz to Bearwood Corks Club.
   
DATE
WHAT'S ON
PRICE
27th Nov
The Blue Notes Jam Night
£4(£3 concs)
4th Dec

BOBBY WELLINS




with

The Blue Notes
£8(£7 concs)
11th Dec
RICHARD HUGHES QUARTET
£5(£4 concs)
18th Dec
CHRISTMAS PARTY


with

The Blue Notes
plus Special Guest (TBA)
£5(£4 concs)
1st Jan
THE BLUE NOTES New Year's Jam
FREE
(TICKETS*)
8th Jan
HENRY NEWMAN BAND feat
Janice Williamson (ex-Black Voices - vocs)
£4(£3 concs)
15th Jan
Trevor Emeny Trio
£5(£4 concs)
22nd Jan
Shaine Dorsey Band
£5(£4 concs)
29th Jan
THE BLUE NOTES
£4(£3 concs)
5th Feb
ROBBIE FEARON SEXTET


(Live Recording)

£5(£4 concs)
*Priority FREE TICKETS for the New Year's Jam on New Year's Day will be made available during gigs, starting with The Blue Notes gig on 27th November, as a way of saying thankyou to all our supporters.
---
  Bobby Wellins
  with The Blue Notes
- 4th Dec
On the 19th Bobby Wellins, one of Britains greatest ever Jazz musicians, will be joining the Blue Notes for our Christmas Party. Bobby Wellins is an icon of modern jazz. He collaborated on Stan Tracey's "Under Milk Wood", one of the biggest selling UK jazz albums ever. In the eighties he re-established himself as one of the finest melodic saxophonists in the world, leading the Charlie Watts Big Band.
"A gentle sound and a unique approach."
Bobby was always one of the musicians that Andy Hamilton loved to bring to the Corks, so it is wonderful news that he is retuning to play with The Blue Notes.

---
 Charles's Close Shave - FOR CHARITY!
-
9th October

-
Charles who you will often see on the door has had his head shaved to raise money for Cancer Research. You can see the video below and, if you wish to donate, you can give at justgiving.com/Charles-Weston
---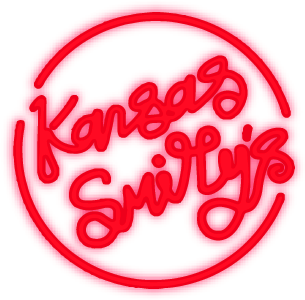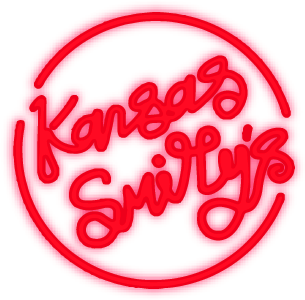 Remember Kansas Smitty's and the two fabulous gigs they played at the Silvershine Jazz Club. We hope to get them back as soon as we can, but in the meantime we have a single they cut recently on sale for £5. It's two fabulous tracks of stunningly crazy Jazz, so if you're like me and you like your vinyl then you'll love this!

---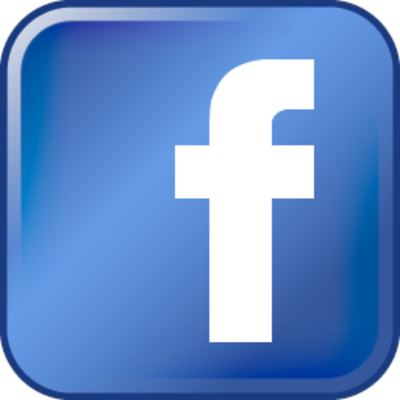 Follow us on Facebook, like us on Facebook, share our events and even become a friend of Bearwood Jazz!
Also like our "Silvershine Jazz Club" page.
We do!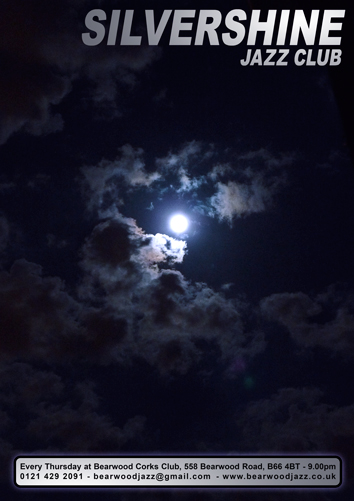 ...and download our stunning new poster. It's A3, but you can scale to fit for an A4 printer, and it will look fabulous anywhere. You can hang it on your wall or pin it up somewhere that it's likely to be seen and spread the word.
We have also created a downloadable version with a text box where you can write in details of specific events at the club (Perfect for performers promoting their own gigs).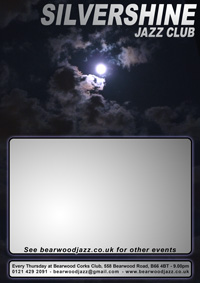 ...oh! and don't forget that you can get regular email alerts about what's on if you join our email list. To do so visit our Contact page and either fill in the form or email us.
---